Semillon
Semillon
Semillon is a white grape variety that is thought to have originated in the Aquitaine region of south western France. It is a high yielding and moderatly vigorous variety that is relatively easy to cultivate. Semillon is fairly diesease resisitant with the notable exception of its suseptability to rot.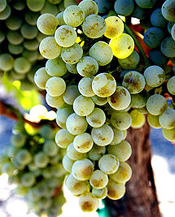 This is due to its tightly packed bunches and relatively thin skin. It is this suseptability to rot, in particulary the effects of Botrytis Cinerea, that produces the acclaimed Sauternes dessert wines synonimous with Chateau d'Yquem and Climens.
Semillon in France is often blended with Sauvignon Blanc to make dry wines in Bordeaux. In Australia semillon has a long history, particularly in the Hunter Valley where it as long been used as a single-varietal producing distinguished wines of great longevity.