Pinot Gris
Pinot Gris and its clone, known in Italy as Pinot Grigio, is a grape that produces delicately fragrant and mildly floral wines that can range from light-bodied to richly complex.
Pinot Gris is thought to be a mutant clone of the Pinot Noir grape and apart from the colour (pinot Gris can be greyish-blue to brownish-pink) the two varieties are almost identical in appearance. It is often blended with Pinot Noir to enrich that variety's flavours. Pinot Gris enjoys cool climates and matures early with high sugar levels.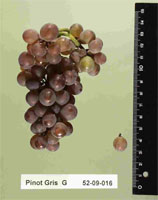 Although widely planted in the Burgundy and Champagne regions for centuries Pinot Gris fell out of favour there due to poor yields. The development in the early 20th Century of more reliable and consistent clonal varieties saw the variety established in Alsace where wines of high quality are still produced to this day.

The North West Friuli region in Italy produces the best Pinot Grigio in that country. The wines from this area are often described as having smokey, salty aromas with crisp, acidic flavours.
Australia and New Zealand have modest plantings but it has become increasingly popular in the last few years in both countries.

It is also becoming very popular in the USA. In Oregon, Pinot Gris plantings and production now exceeds that of Chardonnay.
The Characteristics of Pinot Gris varies greatly according to the region and winemaking style. Pinot Gris tends to range from medium and full-bodied wines with a rich voluptuousness and floral and spicy characteristics to crisp, acidic light-bodied wines, pale in colour and lean or single-dimensional in flavour.